Verification Via the ecoPayz Website
ecoPayz has a very user-friendly interface; however, not everyone is aware that the platform's capabilities are greatly enhanced after verification, including increased transaction limits, decreased withdrawal fees, and much more. To take advantage of all of ecoPayz's features, you should complete the ecoPayz account verification process as soon as possible after registering.
Users can verify their eco Account by following a few easy steps:
Log onto the official ecoPayz website and after logging in to your account, click on "Upgrade." Note that before you verify your account, your limits and features using ecoPayz will be severely limited.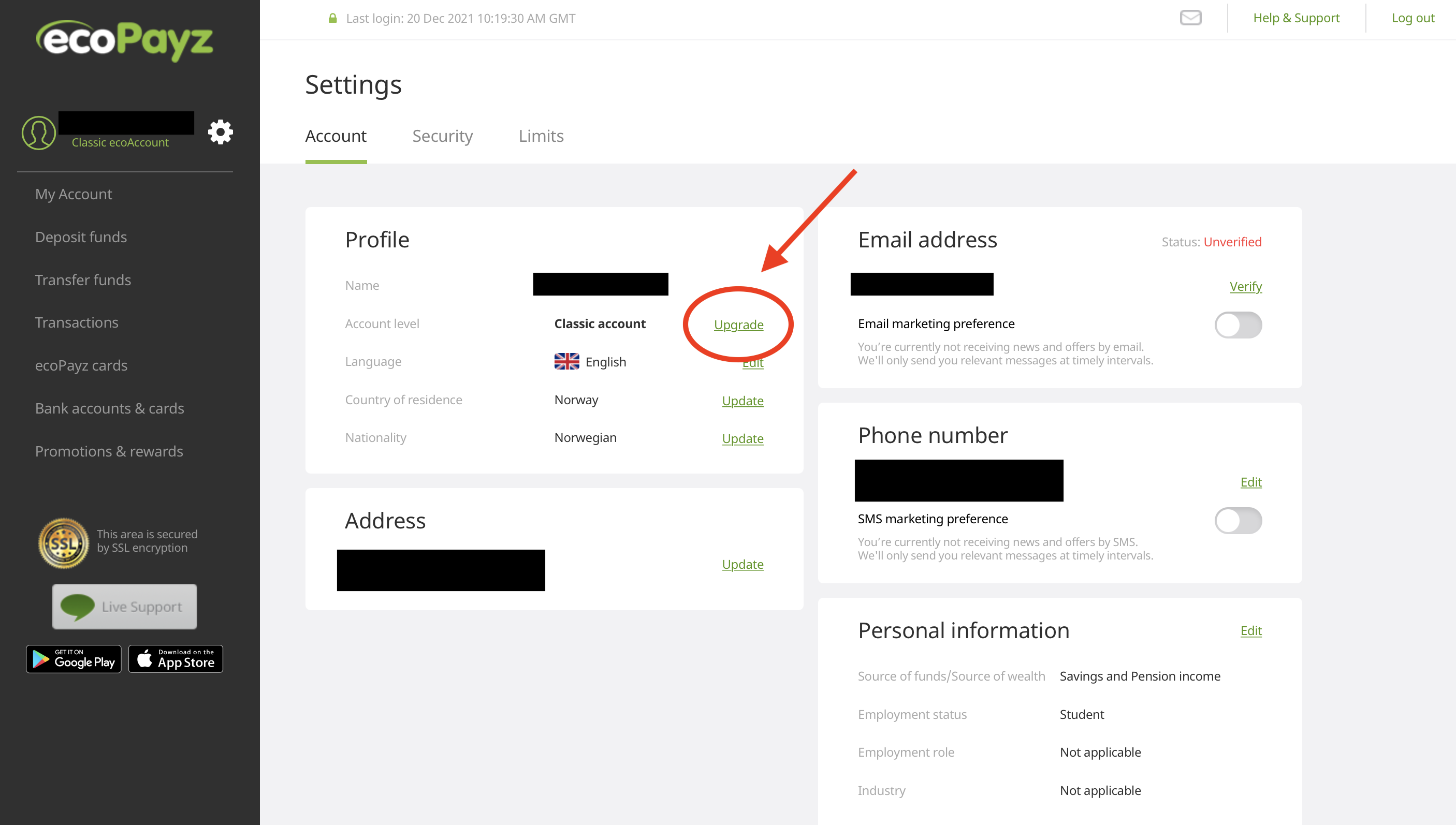 Click the "Verify your identity" button, which is located under "Upgrade your Account".
The upgrading process consists of three steps: email address verifying, setting up a security question, and identity verifying. Upon completing all of them, you can get a Silver level status.
Proof of identity (you should provide high-quality photos or legible copies of your valid passport, driving license, or national ID card).
A notification pops up as soon as the user has successfully uploaded proof of identification, asking the user to enable the site to read the user's live geolocation. The users can either use this option or enter their residential address manually.
If entering manually, the users can choose between their utility bills, bank statements, or residence certificate within the last three months to prove their address.
The next step asks the users to upload a clear image of their face. They can either choose to take a picture at that moment with the camera or upload a previously stored image from their gallery. The image needs to be clear and must fully show the user's face from a straight angle so that it's easier for the site to scan the image.

Users who capture a photo directly instead of uploading one from their files need to make sure that the picture is clear, has a simple background, and only contains the users themselves.
Lastly, the users has to upload a selfie, holding their identification documents, including a handwritten note with todays date and "For ecoPayz".
Once the user has completed all these steps, the user account is verified and automatically signed up for Gold status.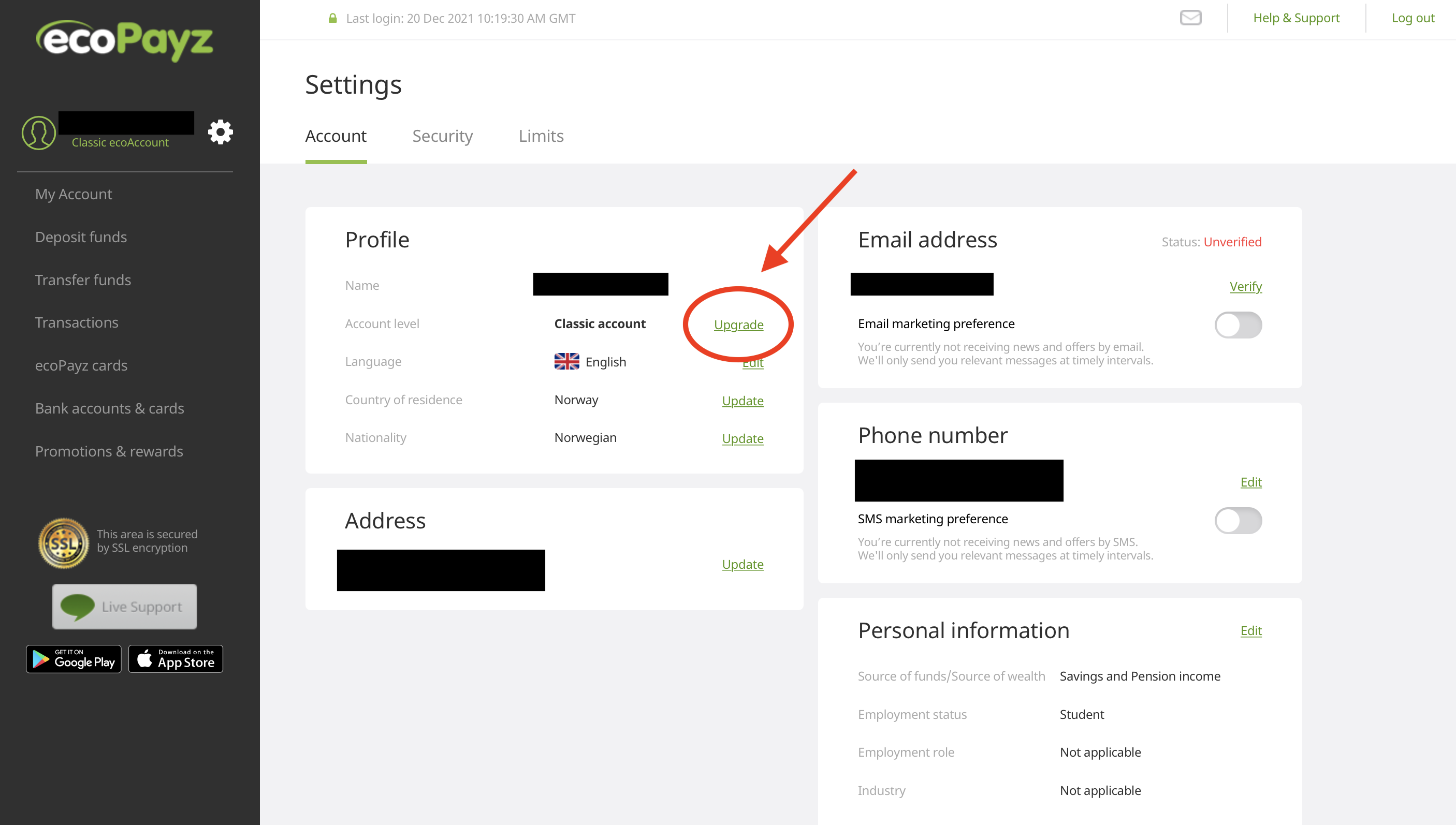 Verification Via the ecoPayz App
The verification process is even more straightforward for regular ecoPayz users that have the ecoPayz app and can be done in just a few steps.
1. Firstly, download the ecoPayz app available on both Google Play Store and the Apple app store.
2. Next, users need to log into their account with their username and password.
3. Once that is done, users need to select the option 'Upgrade for free.'
4. This step will automatically redirect them to a new page where they need to select 'Verify Identity'.
Proof of Identity
The app will then ask users to upload proof of their identity, which is done in 3 easy steps;
Proof of identity: here, users need to upload their identification documents: user's identity card, driver's license, or passport.
Proof of address: users need to give evidence for their residing location here, which can be done by uploading the user's utility bills, bank statements, or residence certificates.
Selfie: in this step, users need to upload a selfie while holding their identity card next to their faces.
Once the users have successfully uploaded all documents, the management will verify the account in 1-2 days, and they can start enjoying the benefits of a Gold level status holder.