ecoPayz – what is ecoPayz?
ecoPayz is a digital transaction systems provider that serves industries in 159 countries and 45 currencies worldwide. It was founded in 2000 and was known as Eco Card until 2013. It deals in both physical and virtual prepaid cards. ecoPayz is a brand of PSI-Pay Ltd, an FCA-regulated firm that provides a quick, secure, and private way to send and receive money around the world, as well as personalized virtual and physical card programs for businesses and people.
This payment tool allows you to make immediate transactions to the business of your preference, whether you're a gamer, gambler, or trader. The list includes poker rooms, casinos, betting sites, and brokers, among others, to give you a wide range of options for how you want to conduct your money transfer. In 2013 ecoPayz underwent a rebrand as they changed from Eco Card to ecoPayz. The new brand included Eco Account, Eco Card, eco Virtual card, ecoPayz Business Account and ecoPayz Merchant account. The company launched a mobile version of the site that same year.
Today, ecoPayz is one of the most renowned e-wallet platforms that exists and has been providing safe and fast money-moving options to millions of users for more than a decade. Enjoy this thorough review of ecoPayz!
How to register an account
The process of registering for an ecoPayz account is relatively straightforward. Users can create a new account by following a few steps listed below:
Log onto the official ecoPayz website and click on 'Sign up' or 'Open a free account.'
Upon clicking on 'Sign up, the user is automatically taken to a new page where a form needs to be filled. The record contains two parts; account information and personal information.
Firstly, the user needs to choose a unique six characters long username that is easy to remember but still hard to guess.
Next, the users are asked to enter their email addresses. It's advised that users enter an operant email address as the ecoPayz site will send a confirmation email on this address needed to register an account.
The users are then asked to choose a password. It needs to be eight characters long with at least one capital character, one numeric digit, and one unique character to ensure that the password is firm and hard to guess.
The next step is for users to choose the country of their residence and their preferred country language. The ecoPayz website offers its services in 12 languages for the ease of its users.
Next, the users are asked to choose a currency. This currency should be the currency they make most of their transactions in, as currency conversions will charge an additional conversion fee. Users have the option of choosing between over 40 coins.
Once the users have completed the account information section, they can move onto the Personal Information section. This section asks users to enter their first name, last name, date of birth, and home address.
Furthermore, the users are also asked to enter their working phone numbers along with country codes. This part is a mandatory field as the ecoPayz website may contact you through this number regarding your account.
After reviewing all the details, the users can click on the 'Create Account' button, and the registration process is completed.
You can read more about how you can register an ecoPayz account here.
Some costs are charged throughout a variety of investment practices. Any activity involving money, whether you are depositing or withdrawing funds through your eco Account, will be subject to a set of fees. These are usually related to the amount of money involved and your level of loyalty.
Deposit Fee
A cost of 0% to 8.5% is charged upon deposits through bank transfer.
Silver status account holders may transfer funds to other ecoPayz users for a mere 1.5% commission.
Gold status users hold the opportunity of depositing funds into their accounts free of any deposit fee.
Registration Fee
Unlike other e-wallet service providers, ecoPayz doesn't charge its users any registration fee, no matter their status.
The table below shows other possible fees that may or may not be charged to the users, according to the status they hold:
Limits
User eco account limits are entirely reliant upon the status they have. These limits are usually put in place to ensure user accounts' safety and the funds they hold in them.
The maximum value of balance that a Silver status account can hold totals to €15 000.
The maximum balance amount for Gold status account holders is more than six times that of Silver status holders.
Remember – registering an account via this link will get you exclusive VIP perks, like instant Gold VIP status!
ecoPayz MasterCard Limits
Your financial standing governs your MasterCard limits. Caps are commonly used to help maintain the security of your account and the funds it holds, but they can rapidly become a hassle and ultimately impose higher charges.
Card restrictions can take the form of a limit on the amount of money that users can withdraw and a maximum number of withdrawals that can be used to complete the transaction. Read more about ecoPayz MasterCard in this article.
Every status allows the users to make ten daily ATM visits.
The maximum value set for the Silver status holders is €250. When users need to make higher-valued withdraws, they need to split the total amount down into smaller portions.
As a result, more fee is charged upon every withdrawal since the withdrawal fee for every transaction is set at 2%.
To avoid this hassle, users can upgrade their status to Gold, VIP, or Platinum. This step will increase the maximum withdrawal amount to €1 500 for ATM and €11 000 on shops and e-commerce websites.
Get instant Gold VIP when registering your account via eWR!
ecoPayz has a very user-friendly interface; however, not everyone is aware that the platform's capabilities are greatly enhanced after verification. To take advantage of all of ecoPayz's features, you should complete the ecoPayz account verification process as soon as possible after registering.
Users can verify their eco Account by following a few easy steps:
Log onto the official ecoPayz website and after logging in to your account, click on "Upgrade."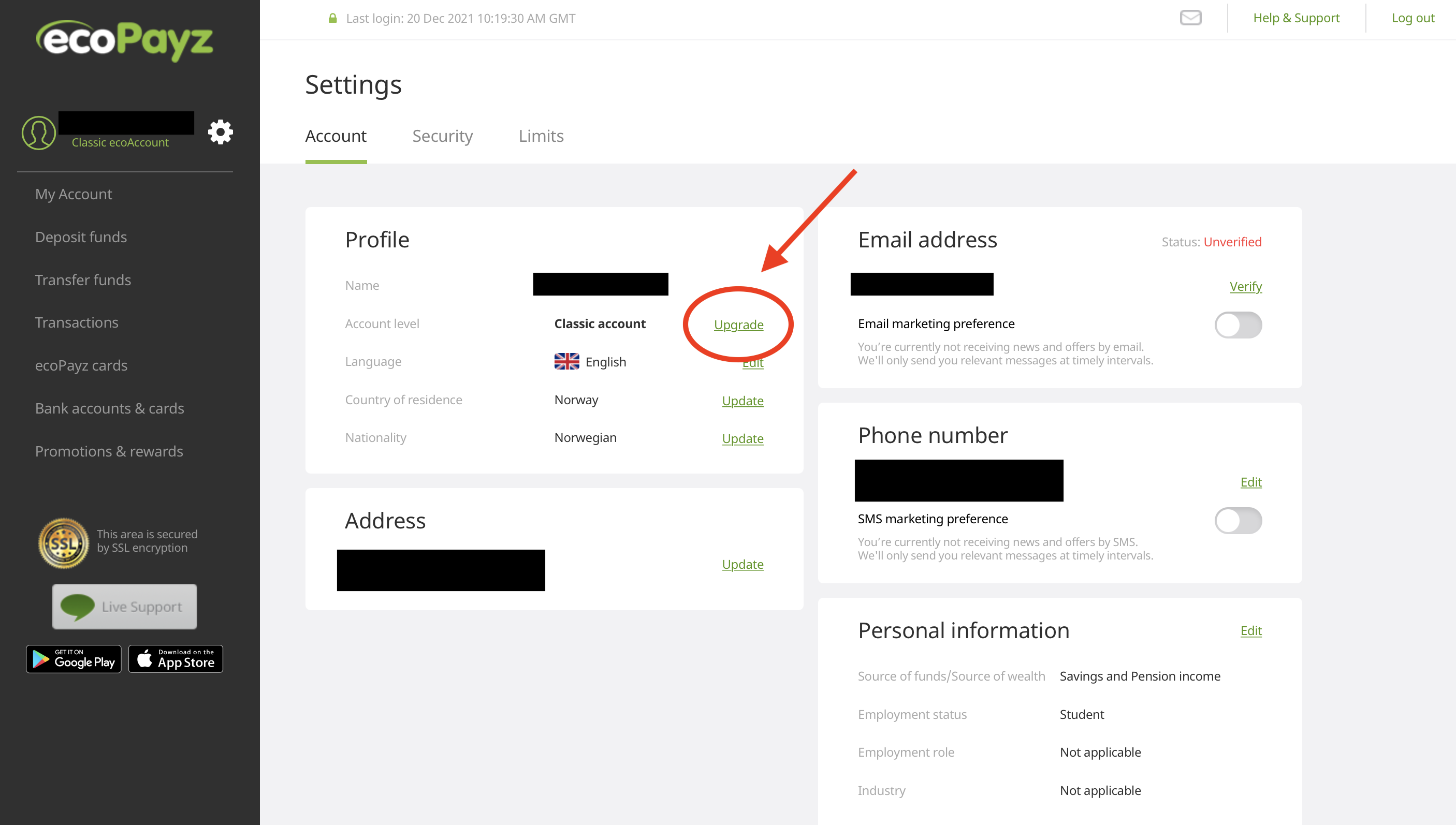 Click the "Verify your identity" button located under "Upgrade your account".
The upgrading process consists of three steps: email address verifying, setting up a security question, and identity verification. Upon completing all of them, you can get a Silver level status.
Proof of identity (you should provide high-quality photos or legible copies of your valid passport, driving license, or national ID card).
A notification pops up as soon as the user has successfully uploaded proof of identification, asking the user to enable the site to read the user's live geolocation. The users can either use this option or enter their residential address manually.
If entering manually, the users can choose between their utility bills, bank statements, or residence certificate within the last three months to prove their address.
The next step asks the users to upload a clear image of their face. They can either choose to take a picture at that moment with the camera or upload a previously stored image from their gallery. The image needs to be clear and must fully show the user's face from a straight angle so that it's easier for the site to scan the image.
Once the user has completed all these steps, the user account is verified and automatically signed up for Silver status.
Read more about account verification here,
IMPORTANT
Please remember that when registering your account via ewalletsreview, you will get instant Gold VIP after verification. In addition, you will get huge reductions in VIP account requirements, where you only need to transact € 10 000 to get to the highest VIP level.
One of the most significant concerns users has while using online e-wallet platforms like ecoPayz is the fear of their funds being stolen or fraud being committed against their accounts. Users are highly concerned about the security of their accounts and the funds present within them.
To make user accounts fully secure, ecoPayz has introduced a method called Two-Factor Authentication.
Every time a user logs into their eco account, a one-time code is generated and sent to the user's attached email address or phone number. The user must enter this six-digit code to gain access to the account, and without it, the user cannot enter into the version.
This feature makes the user accounts hack-free and even harder to gain access to, making user funds much more secure.
Read more about ecoPayz account security on this page.
You can deposit funds on your ecoPayz Account by using one of the following methods:
Credit/debit card.
Local deposit options.
International bank transfers.
BitCoin
The deposit fee may vary according to every country and its corresponding currency. Read about the different fees and limits for ecoPayz here.
To withdraw a certain amount, users need to apply for the withdrawal by sending a request on the 24/7 open platform. After logging in to your eco account, users must select the 'Withdrawing funds' option to generate a withdrawal request. The request takes three business days to process, and payments can take up to 5 business days to reach your bank account.
Payments can be withdrawn through bank transfer, credit/ debit cards, and through an ATM with the ecoPayz MasterCard. Furthermore, users can also withdraw funds by transferring them to other e-wallets like Skrill. Read about the different fees and limits for ecoPayz here.
ecoPayz allows its daily users many unique benefits according to the number of daily transactions they make and the number of funds they transfer. The statuses are as follows;
Classic
Silver
Gold
Platinum
VIP
The users need to follow some steps to reach new status levels; the higher the group, the more benefits the users can enjoy. By reaching different level statuses, users can enjoy more and more benefits, for example, on the maximum limit of funds that users can store in the e-wallet. Read more about the different VIP levels here.
Increasing ecoPayz Limits with eWalletsReview
Users may substantially optimize their ecoPayz account and gain additional benefits by combining it with the eWalletsReview exclusive VIP deal. All they have to do is register an account on ecoPayz's official website by following this link and follow a few easy steps. Next, they need to finish the account verification process that involves users providing proof of their identity through identity cards, passports, or driving licenses and their residency verification through utility bills, residency certificates, or bank statements. The account will then be upgraded to ecoPayz Gold immediately after verification, with lower costs and higher limits.
Furthermore, as an eWalletsReview client, users can obtain the highest ecoPayz VIP status for only 10,000 EUR in transactions instead of 250,000 EUR for other users. Read more about the different VIP levels here.
Classic
All newly registered eco pay account users come under this status, and they need to be registered to earn the Classic level.
Silver
Users need to complete the verification process to get the Silver status.
Gold (instant via eWR!)
To reach the Gold status, users need to;
verify their bank card;
deposit € 5 000 from a bank account or € 2 500 from a card;
have a Silver Eco Account for 30 days;
Make deposits to any merchants for the total sum of € 25 000.
Platinum
To reach the Platinum level status, users need to;
own a Gold Eco Account for 30 days;
get and activate their Eco Card;
Make deposits to any merchants for the total sum of € 50 000.
VIP
to reach the VIP level status, users need to;
own a Platinum Eco Account for 30 days;
get and activate their Eco Card;
Make deposits to any merchants for the total sum of € 250 000. Only €10 000 with eWR!
need to fund their account for the total amount of € 10 000
For users that want to get the most out of every purchase you make with your ecoPayz account or Eco Account, the ecoPayz MasterCard is unquestionably the best option to go with.
The ecoPayz MasterCard will assist in making online or offline purchases of up to €5,500 a day and daily ATM cash withdrawals of as much as €750.
The ecoPayz MasterCard is a prepaid MasterCard plastic card that users can use for contactless deposits. You can use contactless technology without requiring an input of your PIN code for payments up to € 50. As with other prepaid cards, the site will limit your spending to the amount already in your ecoPayz account.
ecoPayz Master Cards operate on a unique principle that sets its tariffs regardless of your account status. Read more about the fees on the ecoPayz MasterCard on the official ecoPayz website.
ecoPayz launched its app in 2014, which gave customers the option of using their accounts 24/7 on any device. The ecoPayz application is a user-friendly app available on both the Google Play Store and Apple app store. The app is easy to use, especially for active users in their daily dealings.
The app allows users to;
Have all your information in one place:
Deposit Funds Easily
Quickly Transfer Funds
Access Your Eco Card
Make Transfers Worldwide